As you may be aware, teachers can give students feedback via rubrics in several spots in Schoology, including on Assignments, Discussions, and essay questions within Assessments. And, in addition to giving feedback via the rubric descriptors, themselves, you may also be aware that you can give individualized comments for each of the criteria. This process is quite easy for teachers, but how do the students view the feedback? Here's a quick run-down for each of the specific instances.
Rubrics used to grade Assignments
(Keep in mind that when referring to Schoology, an "Assignment" is a specific type of activity.) In Schoology Assignments, students can view the feedback on a rubric by going to Grades (in the menu to the left), then clicking the rubric icon

next to their grade for the Assignment. This will display the rubric, and also indicate if there is additional feedback in each criterion by displaying an icon that looks like a comment cloud

.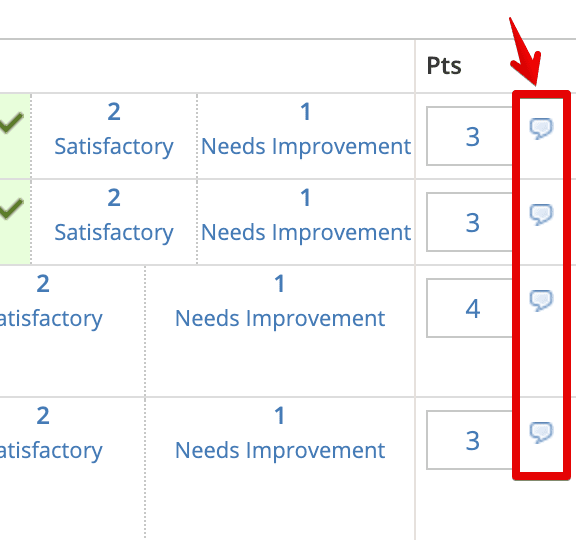 Note that this is somewhat inconspicuous to students, so if teachers are looking to ensure that students see the specific comments, there may be other solutions.
Rubrics used to grade Discussions
Viewing feedback given via rubric in a Discussion in Schoology is similar to doing so in an Assignment: the student must click Grades (in the menu at the left) and then click the Rubric icon next to their grade for the discussion. Again, comments will be indicated with a comment cloud.
Rubrics used to grade essay questions on Assessments
Students can view feedback given via rubric on an essay question on an assessment ONLY if the settings for the assessment allow the student to view the assessment after submitting. From there, they can see their grades for each question. Next to the essay question which was graded with a rubric, the student will see a slightly different rubric icon, which appears as a box with 4 squares within

. When students click the box, the rubric will appear. Comments left in this rubric will appear inline with the rubric descriptors–making them slightly more visible than in other instances.
---
As always, we'd love to hear your questions and comments on this. Please feel free to comment below!