In case you haven't heard, I am back working with my own set of students on a regular basis, leaving Amy as the only full-time Tech Coach in our district. This has given me the opportunity to try out some of the things I've been supporting teachers in doing over the last 4 years, and even develop some new things. I'll still continue to post to the Tech Coach Blog periodically. Just think of me as the "Tech Coach On-Location" 😉
Standards-based grading and assessment are the trend these days, and rightly so. Thinking along these lines has been really helpful for me, personally, to help narrow the scope of my instruction and be laser-focused in my assessment of students.
This year, the Biology team and I have begun to implement standards-based assessments using iLearn (Moodle). Our model follows this pattern: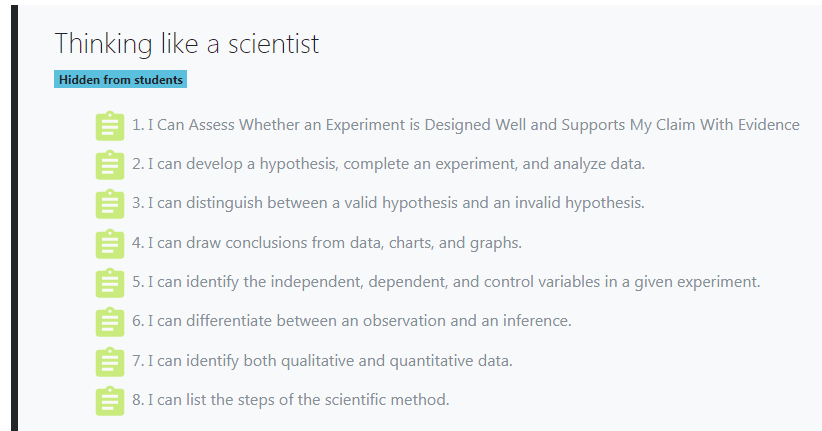 Assessments are broken down into learning targets (and named accordingly).
Each assessment contains a random selection of 4 questions from a question bank the team and I have built, as we have spent time vetting each question to ensure that it addresses the specific learning target. that means every student has a unique mix of questions, but the questions come from the same question category.
On "test day", students take the series of mini-assessments, for which they earn a score of 0-4. Since we have agreed on the questions, we have determined that if students can answer at least 3 of 4 questions on the learning target, we can be reasonably sure they are proficient at the learning target. Four correct is even better, while 2 or fewer correct would be evidence that students need intervention.
Fortunately, since the assessments are specific to a specific learning target, we can focus the interventions on these targets. Retakes of the assessment also take a different flavor, as students only need to retake the assessments in which they are not proficient, as opposed to retaking the whole "test" again.

These assessments also give our PLC data to work from, allowing us to draw conclusions about student learning, instruction, and help us to develop actionable steps forward within the school term and beyond.
Accommodations
In addition, we have created duplicates of all of the questions and mini-quizzes, for which we have then added audio to the questions. These questions are accessible only to students who are in the "Accommodation" group. Likewise, the non-accommodated test is invisible to these students. That means teachers can add students to the Accommodation group and they have access to the audio for the test.
We'd love to hear from you. Please feel free to leave your comments below and, as always, please reach out to the Tech Coaches to learn more!