As the weather turns cooler and the leaves on the trees start to change color, our thoughts turn to jack o' lanterns, broomsticks and all things haunted. Some of our favorite EdTech people have shared some pretty cool Halloween activities, and we wanted to share them with you.
Eric Curts- Control Alt Achieve
Eric Curts (@ericcurts) is one of my all-time favorite EdTech people. He is very Google-centered, and offers MANY activity ideas and templates, free of charge, at his website https://www.controlaltachieve.com. The following are some Halloween activities he has shared.
Drag and Drop Poetry
Have your students create their own seasonal poems with this simple Google Drawings activity. Students are provided with a colorful, themed canvas on which to drag and drop their words. Words supplied are basically from the Dolch word list, along with some Halloween-themed words. There are also blank tiles so students can add in their own words, as well. Students have the ability to duplicate word tiles (ctrl + D) in order to use words multiple times in their poem. Eric provides the template (you will be prompted to make a copy), a video tutorial on how to use it (below), and a nice write-up about the activity on his blog. This activity is a great example of something you could easily assign as an Assignment in Schoology.
Halloween Rebus Story
Another idea on Eric Curts' blog is that of a Halloween rebus story. A rebus story is one written through the use of words and pictures. Eric provides teachers with a template in Google Docs (you will be forced to make a copy) that includes many Halloween-themed pictures students can use to create their own rebus story. On his blog, he also provides instructions for teachers on how to create other types of themed rebus story templates.

Build-A-Jack-O-Lantern
One final activity provided by Eric Curts of Controlaltachieve.com is the Build a Jack O'Lantern activity on Google Slides. In this activity, students use pictures to build a jack-o-lantern, and then write a story about their pumpkin. Again, teachers are provided a complete write-up on how to use the template on the blog.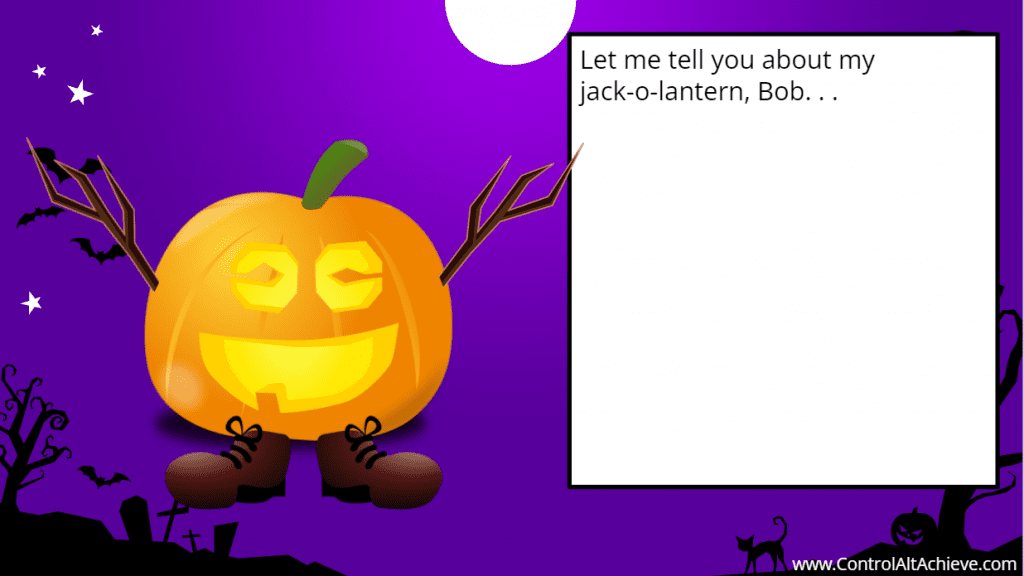 The PBL Project- Ben Bache
I subscribe to weekly PBL warm ups through The PBL Project (@pbl_project). Each week, a new mini PBL project idea comes to my inbox, complete with links to resources that go along with it. One recent project idea is about local legends. Students do some research on a local legend (one can be the Nain Rouge in Detroit), and then they have to come up with an idea centered around the legend to attract tourists.
The problem is as follows: "You are on a tourism committee for the state, and you have noticed that many visitors are interested in "ghost tours", local legends, and other folklore.  Why do these legends have so much appeal, and can they be used to attract more tourists to the area?" The students are then supplied with a map of local legends throughout the United States, a poster of scary stories that prompted a rise in local economies, an example of an online discussion forum, and a guided thought-gathering sheet for students to keep notes and help guide their thinking. The end product can be a commercial, slideshow, skit, or any other presentation that would encourage tourism to the area. The PBL Project's Weekly Warm Ups also include teacher directions, leading questions for classroom discussion, and a rubric for grading projects.
To subscribe to The PBL Project Weekly Warm Ups or see other sample content, visit The PBL Project at http://pblproject.com/Home.aspx.