The district has purchased 15,000 Chromebooks to replace most of those that went home during our period of virtual learning. So where are they?
The tech team has been working hard on the weekends to get the Chromebooks in the hands of students, and I spent last Saturday helping them get some of those ready to deploy to buildings. I rotated through each station so I could have firsthand experience in every area. Here's a little inside peek at what goes into getting 15,000 Chromebooks ready for student use.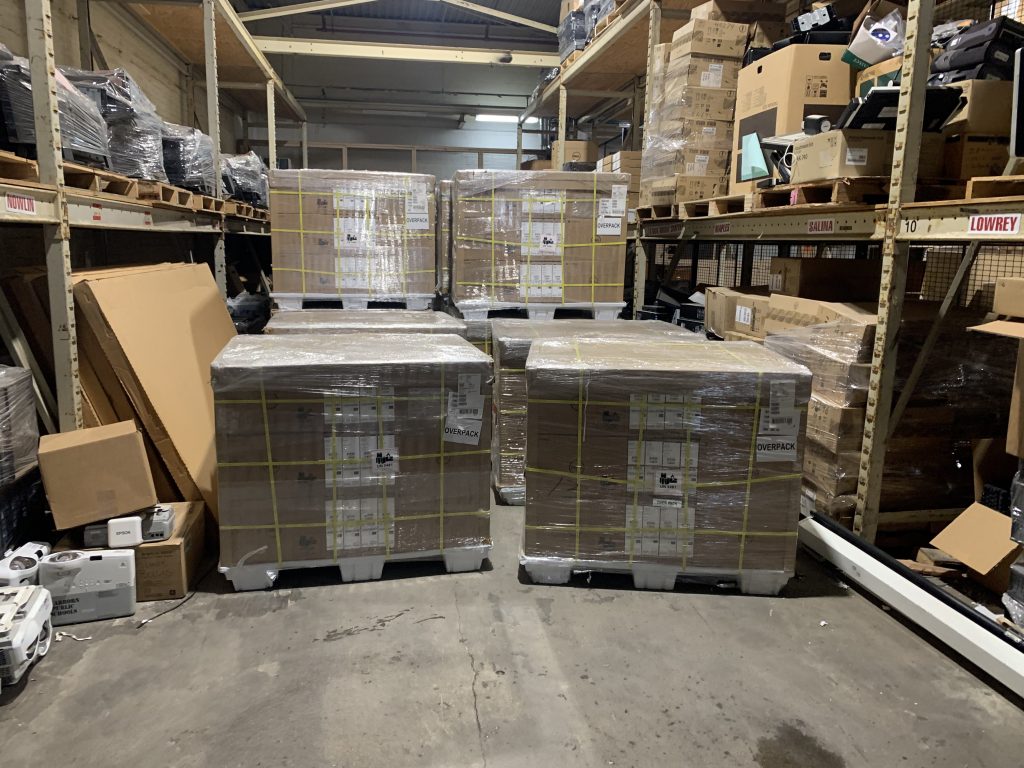 Step 1: Unboxing
This is the first step in the deployment process. You may think that "unboxing" is a simple procedure, but it has a few steps. Each box comes with a Chromebook, a power cord, and a charger. All three are removed from the box, unwrapped, and sorted. Then trash is collected, boxes are closed and stacked, and Chromebooks are carefully stacked on handtrucks. Chromebooks are then sent to be inventoried, while chargers and power cords go to the wiring station. The unboxing station is responsible for many cuts and broken fingernails!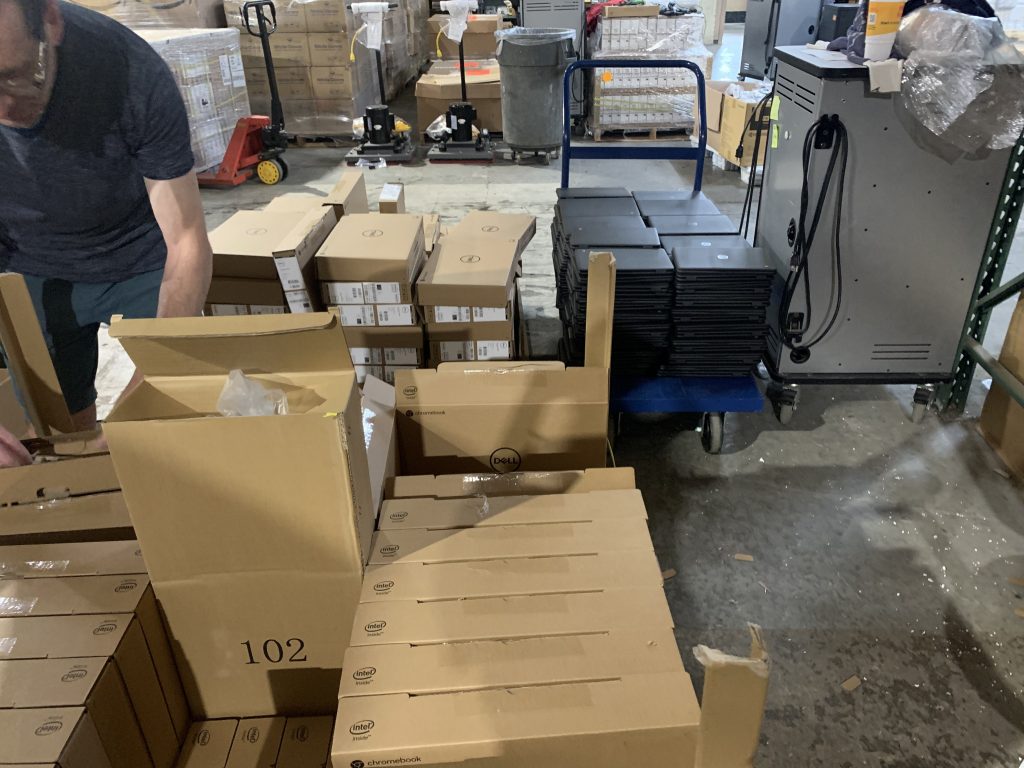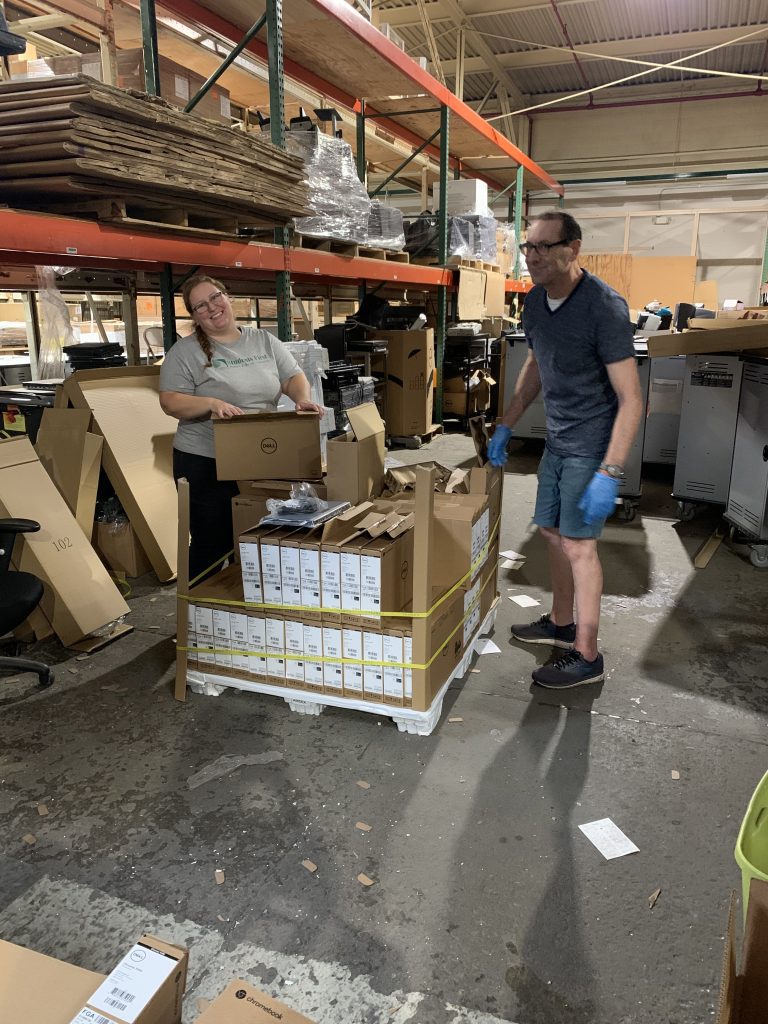 Step 2: Wiring Station
At this station, all the carts are hardwired. The back of the cart includes all of the power packs. The charger cords are fed through slots to the front of the cart and wound around the notches in the shelves to help secure them and to deter removal of chargers from the carts. All wires are tethered and secured for neatness and to avoid possible severing when cart doors are opened and closed. This station is very tedious, and is the cause of many cuts and bruised hands, as well as sore shoulders!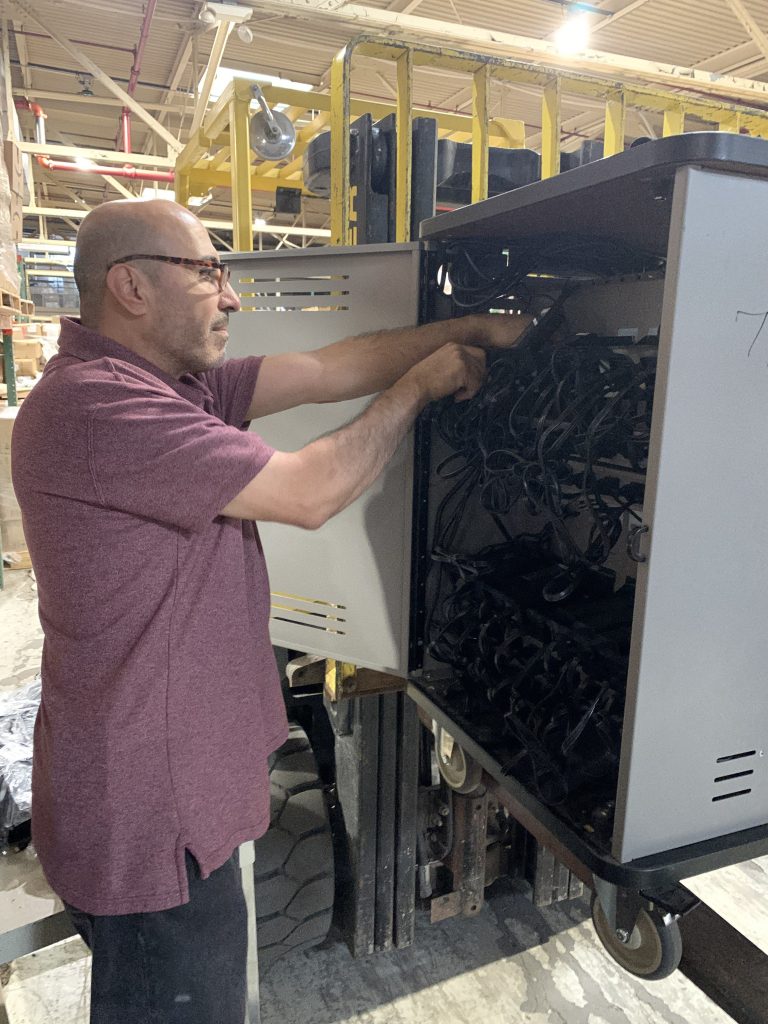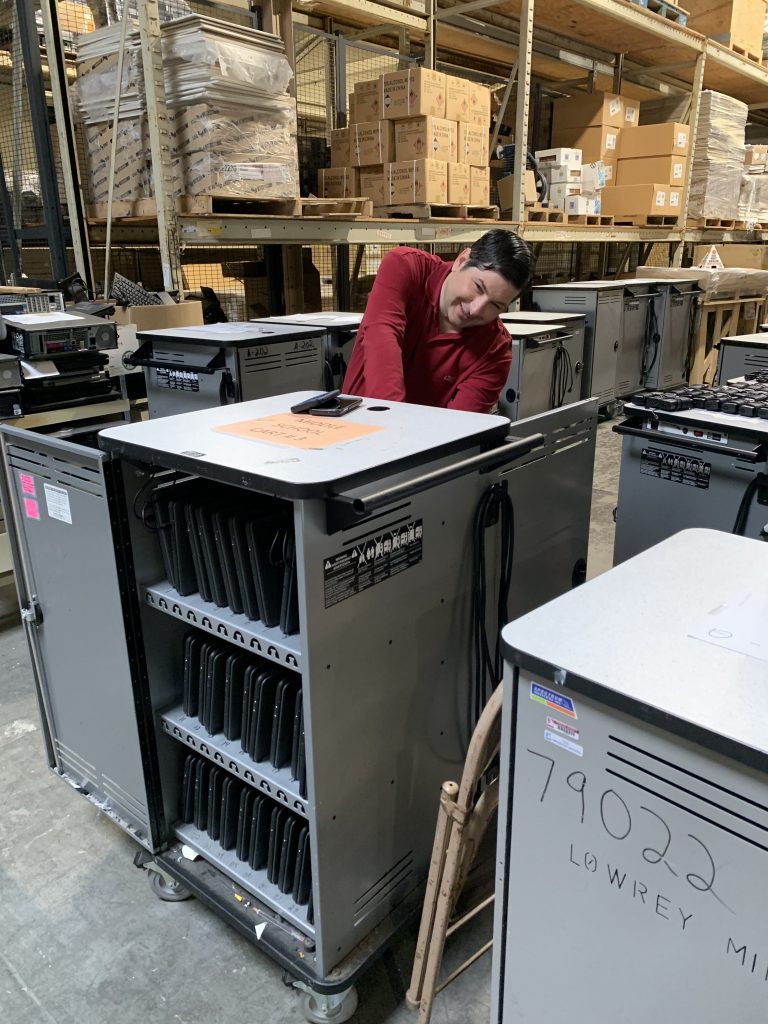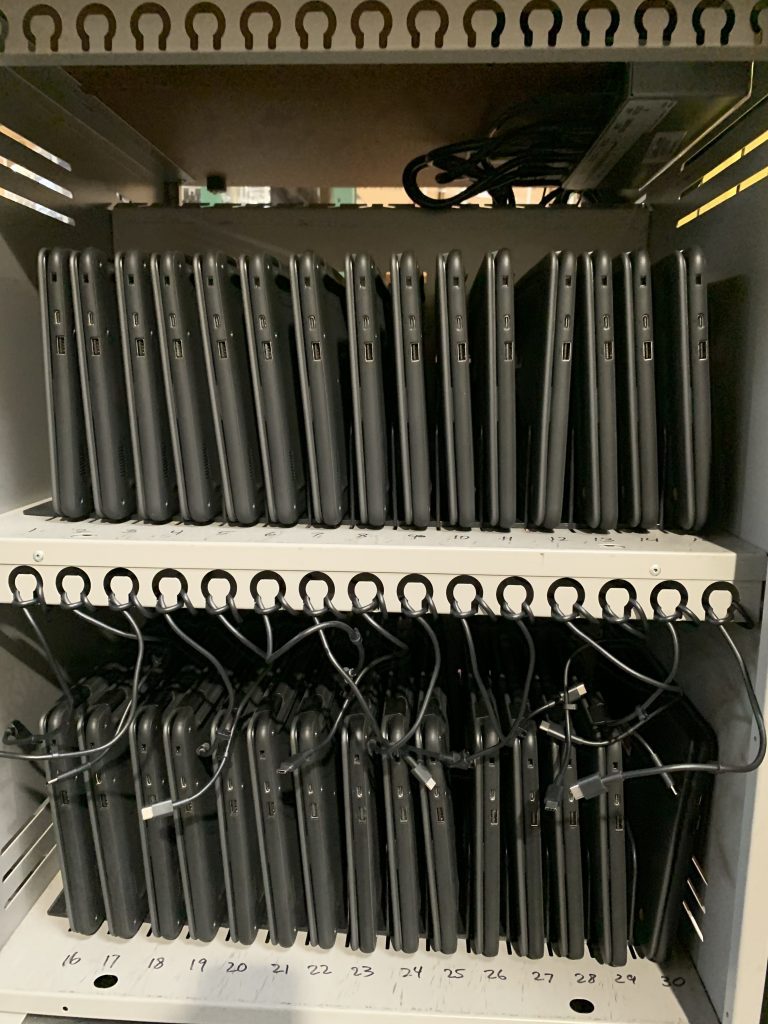 Step 3: Inventory
Now that the Chromebooks have been unboxed, they make their way over to Erin Dragoi. Erin works in the warehouse, and is in charge of its inventory. She takes each Chromebook and attaches an asset tag. The asset tag has a unique number with a corresponding bar code, and is used to track the Chromebooks across the district. Once the asset tag is affixed, the unique number is written on the Chromebook in permanent marker, in case the asset tag is removed or lost. Next, the Chromebook asset tag is scanned into the computer and is assigned to a building and/or cart. Finally, Chromebooks are placed into the carts.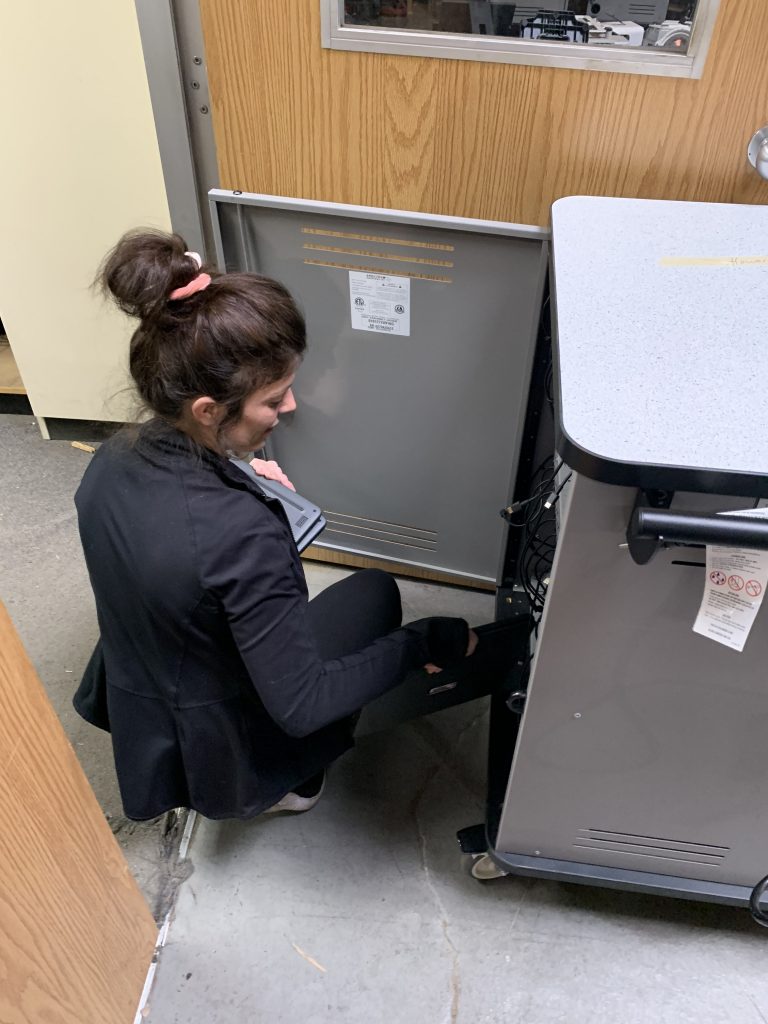 Step 4: Enrolling and Updating Chromebooks
The last step in Chromebook deployment is the enrolling and updating stage. Chromebooks are enrolled into our system, which allows them to be trackable and installs all of our unique network settings. Finally, updates are run so that the operating system is the most up-to-date with manufacturer standards. This station requires a level of concentration to make sure that no steps are missed in the enrolling and updating process.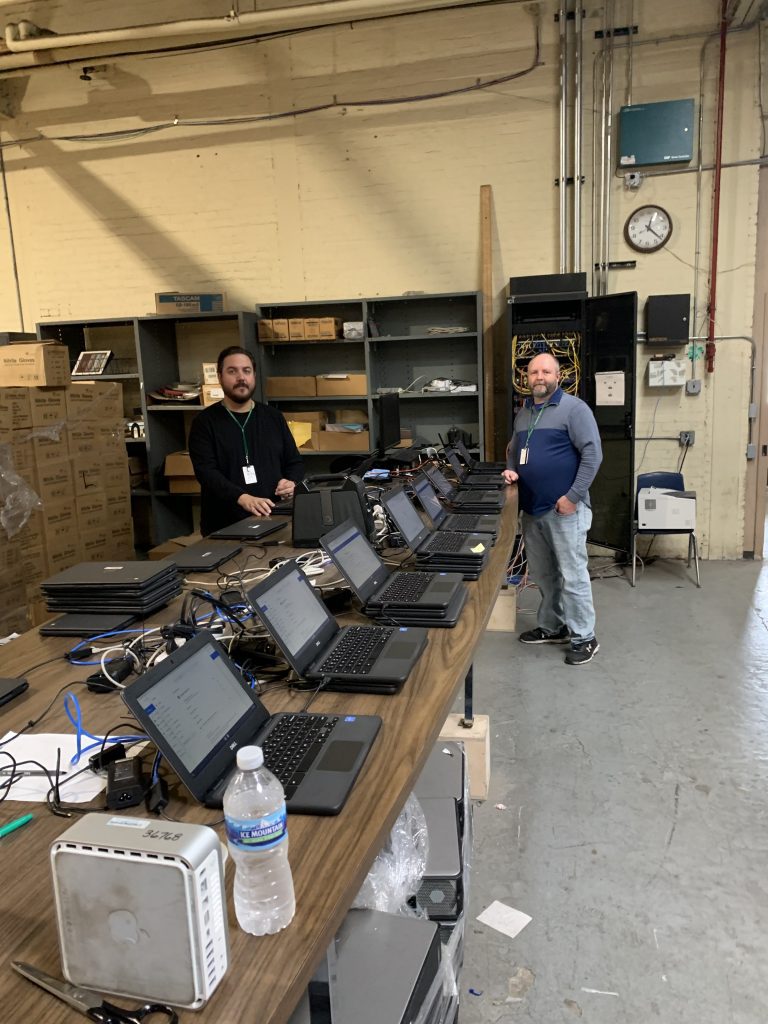 Once the Tech Department completes these steps, the Chromebooks and carts are now ready for Transportation to load and deliver to the buildings.