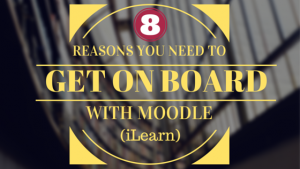 Across the district, students are deep into the spring assessment process. Tensions are high and anxieties are piqued just at the height of the stakes of standardized testing. You would almost think this was the ultimate goal of education.
To add to the general sense of unease is the fact that many students are taking their first standardized test on a computer. For some students, this is nothing new. They regularly have the opportunity to demonstrate evidence of proficiency in an online setting. But for many, this unfamiliar format presents for them another factor with which they need to accommodate themselves in an endeavor that is, for all intents and purposes, for all the proverbial marbles.
Now, there's probably not much evidence out there that would suggest students that have few online testing experiences necessarily do worse at online testing. But for all of the effort we put into preparing them with test-taking skills on top of the content we've already immersed them in, why would we not also want to prepare them to demonstrate their proficiency in similar ways to those in which they'll be forever judged? Even more–and with all due respect for that which brings us to our professional genuflection–why not prepare students to conduct themselves academically in the arena in which they will realistically spend the rest of their lives: connected, to others and to information accountably …online?
Teachers who use Moodle give their students the opportunity to conduct themselves in the arena in which they'll spend the rest of their lives.
The world is paperless. Not because paper is passé, but because we can do exponentially more when we're not limited to paper as a resource. This is no less true in education than anywhere else. In fact, it is probably more true in the field in which access to the world is the ultimate limiting factor.
Moodle allows teachers to facilitate learning in this unlimited arena, yet with control on the parameters and accountability for all the participants. Teachers can point to quality resources, provide unlimited access to quality reading materials, offer opportunities to engage with content and demonstrate proficiency at recognized academic standards, network with peers under academic protocols, and more without ever leaving the central learning hub of a Moodle course. Realize the benefits: no limits on time or location, no imposed limits on access or physical resources, no need to beg the purchasing secretary for $10 more for your copy budget. Yet the ultimate benefit is that students have the infinitely transferable experience of learning to become productive in the online world–experience that even transfers to the state test, if that were your goal.
Go paperless. Remove boundaries. Increase access. Create opportunity. Transform learning. Get on board with Moodle.