Because Moodle is the most versatile tool available in allowing teachers to make resources available and to allow students to interact with the content digitally, many teachers are now using Moodle (iLearn) as their online launch pad. One teacher who is maximizing the capabilities of Moodle is Stout 7th Grade Science teacher Pete Bloye.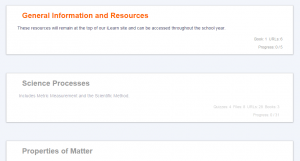 Mr. Bloye has worked for several years to gather the best links, resources, and activities to help students learn the content. He has also created a wide variety of interactive student activities that allow students to apply their learning and move to higher levels of thinking. The result is a huge, highly-organized collection of resources and activities that Mr. Bloye's students have the privilege of learning with.
In addition to (literally close to 100) links to valuable and carefully selected study aids, Mr. Bloye uses embedded videos, animations, online books, and PDFs to help students learn. Many of these resources are, themselves, embedded into activities the students engage in.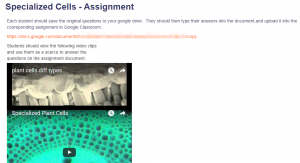 For instance, some of Mr. Bloye's recent assignments require students to watch a selection of videos, enter data into a Google Doc, and even manipulate an online physics demo. With each activity, students have the opportunity not only to learn about science, but also to learn how to navigate and effectively thrive in an online environment–skills that every student in this age can't live without.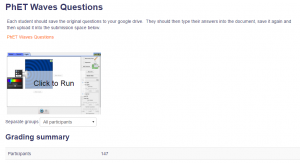 Mr. Bloye's students also take many of their pretests, quizzes, and tests online, allowing them to receive quick feedback and gain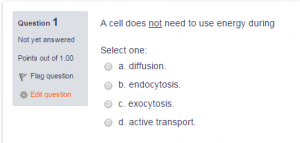 ing the experience of online assessment–which will also benefit them when it comes to standardized testing like the NWEA and M-Step. Mr. Bloye's students will have all already had the frequent experience of displaying their learning online.
Mr. Bloye's students have everything they could possibly need to learn and understand science: all teacher-selected, expertly-created, highly-organized, and continuously-growing.  And all available to students 24 hours a day, 7 days a week.