Several teachers in secondary science have begun using an argumentative writing protocol called "Claim-Evidence-Reasoning", or "C-E-R".  Students use this protocol to generate a claim about a particular issue or concept, then support their claim with evidence.  Students then attempt to hold up their evidence with sound reasoning.  Teachers use this protocol in many different activities throughout the year.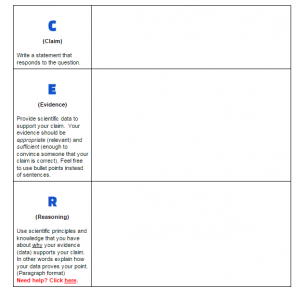 Recently, I worked to make the protocol, templates, and links available as a iLearn (Dearborn's Moodle Courseware) package.  The Moodle package presents students with the prompt, followed by a link to a Google Doc which contains the template.  Students are also presented with the rubric by which their writing will later be assessed.  Upon clicking the link, students are prompted to copy the template to their Google Drive.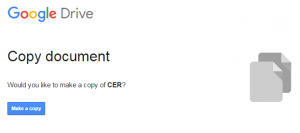 Within the template are links to help documents for certain sections of the template.  From their Google Drive, students then complete their writing using the template and upload the finished product back to Moodle.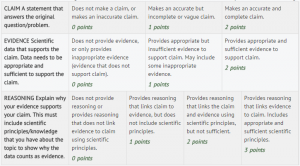 Teachers can then use the rubric to assess the student's work and give feedback.
The iLearn C-E-R package is advantageous because it contains everything a student and teacher needs in order to begin a writing assignment.  It can be copied as many times as needed, to be used in whatever context the teacher needs.  It also introduces a level of consistency for students, as they see the same template, rubric, and help features, even though they might be writing about a different topic within a different context each time. Therefore, the feedback they receive from their teacher on one occasion is easily transferable to the next activity.  Finally, since iLearn is a platform upon which teachers can share resources, teachers across the district can import and use the C-E-R assignment immediately in their own courses.
At this point, several teachers have piloted the activity and reported outstanding results. If you'd like more information on this activity, would like to use it yourself, or would like help creating a similar activity, contact the Tech Coaches!