Like most other districts across the country, the Dearborn Schools employs Technology Coaches to support teachers, students, and administrators in effectively integrating technology into the learning environment for all students. In order to support the over 1,400 teachers and 22,000 students in our district, Amy and I (Bob Harrison) are teachers who serve as ambassadors for the district's new technology plan and advocates for effective instructional practices across the board.
We measure our success and align our interactions according to a set of standards created by ISTE (International Society for Technology in Education), the internationally-recognized organization that has been arguably the most significant driving force in educational technology. Here are our standards: the ISTE Standards for Coaches.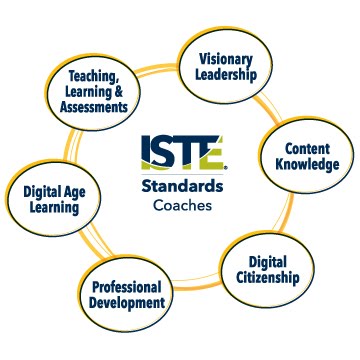 Over the past 8 years, the Technology Coaches have supported Dearborn teachers by meeting one-on-one, conducted large-group professional learning experiences, both in-person and remotely, worked with PLCs and small groups. We have modeled and co-taught lessons, worked with small groups of students, and helped plan lessons and units for students with diverse needs. We stay current on research and innovation in learning with technology, and help teachers make wise choices about the tools and strategies they use to help students learn. We have also established strong professional learning networks that we maintain with other technology leaders from across the county, as well as educators around the globe via social media.
The tech coaches continue to empower teachers to meet the goals of the district technology plan, as well as to take steps toward reaching the ISTE Standards for Educators and transform learning for students. You can arrange to meet with the Technology Coaches on our main page at techcoaches.dearbornschools.org. Let's get started transforming the learning for your students!
For more information on what technology coaches do within our district and across the country, check out this guide produced by the Learning Technology Center, entitled Instructional Technology Coaching to Enhance Professional Practice.