As we get started with a new semester, here are a few resources and reminders to help you get started on the right foot.
Student Info Survey
Establishing good relationships is essential to creating an effective learning community. As Goodwin, Rouleau, et. al. suggest in The New Classroom Instruction That Works, "Because students bring different interests, motivations, and cultural lenses to your classroom, identifying hooks to stimulate their interests requires you to think beyond yourself and what you find interesting." One way to do that is to get to know more about students and what their interests and motivations are. Here is a Google Form you can copy that I created from a few prompts suggested by these same authors: About You. Here's a preview of the Form:
Guidelines for Classroom Technology
I've created a quick reference tool to display 5 Guidelines for Classroom Technology. These are 5 things to remember in order to ensure that we are using technology in meaningful ways in our instruction. This tool can be found at the top of this post!
Digital Posters for Technology Use
The authors of Classroom Management in the Digital Age have created a few digital posters that display some important reminders to support learning for students when using technology. You can download high resolution images of these posters on their website at https://www.cmdigitalage.com/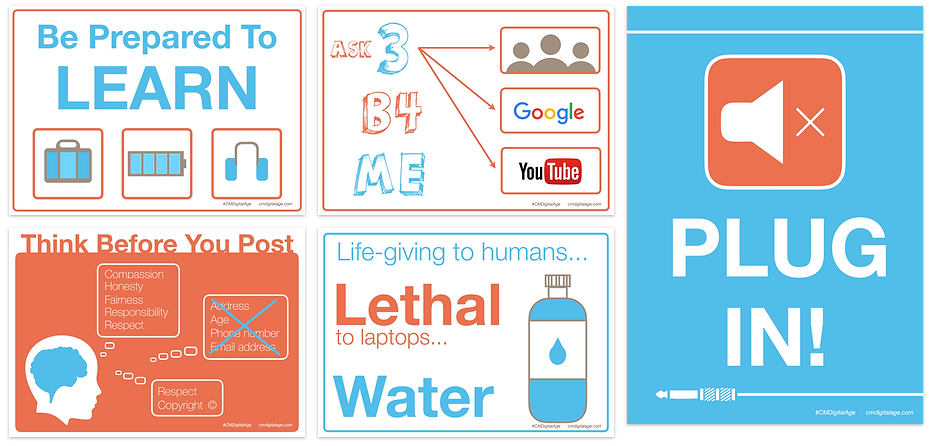 Thinking Forward to Authentic Assessment
One step to shifting to student-centered learning is to pass the baton of assessment to students. A way to do this is in the fostering of student digital portfolios. The process of creating ePortfolios is a rich experience for every student, as we guide them in creating and curating their best work, and displaying it intentionally to an audience that they choose.
Student digital portfolios can be created using a variety of platforms. Two of these that we have readily available are studentsites.dearbornschools.org (built in WordPress), and Mahara (available through moodle.dearbornschools.org). Reach out to the Tech Coaches for help in creating your assignment description and thinking through your expectations to help students create amazing displays of their work for authentic assessment.
The beginning of the semester is a great time to get started on setting the requirement for student ePortfolios.
Inspiration to Keep Getting Better at Giving Feedback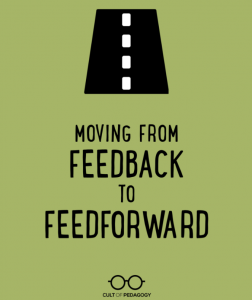 Those who know me know that formative assessment and giving better feedback are a couple of my passions in teaching. I often use technology to do this. But sometimes I don't. Either way, one area in which I believe all teachers can continue to grow is in giving better and more effective feedback.
One way to do this is to move from thinking about Feedback to thinking about FeedForward. This was a concept laid out by Joe Hirsch, as explained by Jennifer Gonzalez: Moving from Feedback to Feedforward.
Let's talk!
The Tech Coaches would love to talk with you and your PLC about any or all of these ideas and resources. Reach out to Amy (elementary) or Bob (secondary) today at techcoaches.dearbornschools.org.