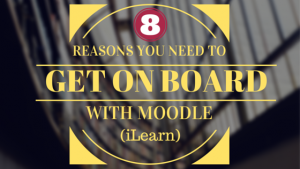 These days, there are dozens of online tools to help students learn and teachers teach.  With quick, fun formative assessment platforms like Kahoot and Poll Anywhere, to tutorial/drill-and-practice sites like Khan Academy and IXL, opportunities for learning abound in the virtual world.  I recommend all of these sites for every teacher and student.  Some of these tools are simple and teacher-generated, while others are more complex and very much out of the teacher's control. None of these sites (Moodle/iLearn included) constitutes the quintessence of educational technology.  Each is limited in the  scope of its capabilities.
Moodle, however, stands above others in terms of the range of its tools.  And this brings me to Reason #2 of the 8 reasons you need to get on board:
There's a tool in Moodle for every part of the learning process.
While all of the other tools can sufficiently replace a simpler tool, enhance a part of the learning process, increase engagement, and generally make a teacher's life easier, Moodle is the Swiss Army tool of educational technology.  Take a look at what's available to teachers and students:
discussion forums
quizzes and tests
chatrooms
surveys
virtual lessons
mindmaps
peer assessment modules
glossaries
rubric-scored assignments
virtual classrooms
and more…
In addition to these, Moodle can be further enhanced with additional tools, resources, links, websites, and folders.  Moodle can serve as the "home base" for every tool a teacher uses.  All of these are firmly within the control and discretion of the teacher.  Yet, they extend beyond the walls of the classroom in their availability to students.  The teacher gathers, organizes, and creates opportunities.  The learner interacts, builds, and analyzes learning.  We'll explore more of the reasons Moodle is good–especially for students–in the posts to come.